Entries are now open for the SWBBA 75th Annual Championships, which will take place on Saturday 4th November 2023 at The Riviera International Conference Centre, Torquay.
As usual, the sections will be an Open Section (for Championship and Section One bands), Section 2, Section 3, Section 4, Youth Band Section and Training Band Section. Test pieces for all sections will be own choice.
The entry form is now in electronic format so can be filled in and sent back very easily online. Download the Schedule & Complete the Online Form »
You will note that the closing date for entries is a lot earlier than usual (30th June) and deposits (or the full fee) are required also by this date. This is in order for SWBBA to be sure of enough entries to make the contest financially viable. The decision to do this was approved at the Annual General Meeting on 23rd April.
Non-SWBBA member bands are also very welcome take part and we look forward to seeing you all on 4th November!
After being thwarted by Covid since 2020 South West Brass Band Association took the bold step of holding their 23rd Mid-Winter Brass Workshop at West Buckland School near Barnstaple in North Devon on February 11th and 12th.
The tutors were Christopher Binns (Trombone), Adam Bokaris (Euphonium) from the Grimethorpe Colliery Band of "Brassed Off" fame and Stephanie Binns (Flugel) from the famous Black Dyke Band.
A group of some 70 participants enjoyed an educational and musically enjoyable weekend superbly led by the very popular trio of tutors.
The participants came from all over the South West and as far afield as London.
The newly awarded "Mervyn Sweet Memorial Shield" for the best young musician over the weekend was presented to James Reynolds of Sidmouth Town Band. The shield had been given to the SWBBA in Mervyn's memory by his family with the wish it was to be awarded to a young player. The winner was selected by the tutors and presented by Mr Mervyn Way (M Way & Son Transport Ltd) the main sponsor of the event.
Presentations were also made by SWBBA President Sue Richards to Keith Gibbs, SWBBA retiring Treasurer and John Croker, SWBBA retiring Minute Secretary, who between them clocked up decades of dedicated service to the Association.
After two days of hard work by the participants the weekend culminated in a short free concert featuring the music that had been worked on.
The catering was provided by Jenny Edwards and her helpers and was deemed to be first class.
Following the success of the weekend the Association are already making plans to stage another event in 2024.'
The South West Brass Band Association is very sad to announce the death of their former secretary Brian Elliott, a much respected figure in the South West of England brass band movement, who passed away on 25th November 2022.
After relocating to Devon with his family in 1971, Brian and his late wife (Joyce) became involved with their local band in Plymouth - Joyce as player and Brian secretary. Brian through a variety of roles became an ambassador for the Brass Band movement for the South West of England for over 45 years. He also served nationally for the National Brass Band Championships of Great Britain as section controller for 15 years before then becoming a vice-president.
Brian was an Executive member of the West of England BBA from 1998-2016 and held the role of Secretary from 2001-2013 and an Executive member of the South West BBA from 1972–2016 covering many different roles during that time.
Brian worked tirelessly for both Associations giving outstanding dedication to brass banding for many years and was a familiar, respected and much loved figure within the brass banding community in the South West of England and further afield. His passion and enthusiasm for developing and educating players of all ages resulted in annual events that continue to live on.
A funeral service for Brian will take place on Monday 19th December 2022 at 10.45am at Efford Crematorium, Plymouth. (The family have requested informal dress please).
SWBBA are proud to announce the return of their Mid-Winter Workshop.
The Workshop will be held at West Buckland School near Barnstaple, North Devon on Saturday February 11th and Sunday February 12th 2023. Registration will be at 09.30 hours on Saturday with the course commencing at 10.00 hours and a finish at 17.45 hours. On Sunday arrive 9.30 hours to commence playing at 10.00 hours with a course finish at 16.00 hours with a free concert for friends and family.
We are delighted that the tutors will be Chris Binns (Trombone), Adam Bokaris (Euphonium) both of Grimethorpe Colliery Band and Stephanie Binns (Flugel) from Black Dyke Band.
We anticipate the event will be as popular as ever and therefore will have a limit of 100 players, be sure to return your applications early to avoid disappointment.
As in previous years there will be an excellent choice of food available at very reasonable costs. Tea and coffee will be provided free of charge as always.
We look forward to welcoming participants both old and new.
The damp and dismal weather at the start to the day did not detract from the very successful return of SWBBA's Annual Championships after a two-year absence.
We were very pleased to welcome twenty-two bands, who competed across five sections, at the Riviera International Conference Centre in Torquay. The venue will also host the West of England Regional Championships in March 2023.
SWBBA Chairman Ray Kingdon said 'After the committee's extremely hard work in getting the contest off the ground again after the two-year gap, we were delighted at the outcome and thank all the bands who entered. We also extend our congratulations to bands and individuals who went home with trophies! We had a very entertaining day and listened to some cracking performances.'
Our grateful thanks go to the adjudicators, Nicholas Garman, Paul Norley and trainee adjudicator Stephanie Binns, to the staff at the Riviera Centre and of course to our stalwart team of stewards who worked tirelessly throughout the day.
We hope to see you all again next year.
Full results can be found on the Annual Championships page »
The Annual Championships run by SWBBA - the 74th event in its history - returns to The Riviera International Centre Torquay) after a 2-year covid enforced break.
Nicholas Garman and Paul Norley are the adjudicators for the day - both bringing a wealth of experience. Stephanie Binns will also be attending as part of her Association of Brass Band Adjudicators (AoBBA) training programme. As part of her two-year training programme she will be involved in live adjudication in conjunction with the official AoBBA adjudicators only. SWBBA are delighted to be providing this opportunity and supporting this initiative.
Said John Woods, Vice Chairman of WEBBA: "We are delighted to see a return to the Riviera centre Torquay and an entry of 11 bands in the Open section. With a total entry of 23 bands, we are looking forward to a wide range of music chosen by the bands across the 4 sections all being own choice including the Training band section where we have one entry.
Given that the 2023 West of England Regional Championships will return to Torquay in March 2023 this will be a good opportunity for bands as they rebuild from the pandemic. Many have been hit hard and whilst entries are lower than we would really like we will have a full day's banding!"
Whilst recent changes have been made to facilities at RIC since the 2020 Regionals, we remain confident that the excellent facilities for competing bands supporters' traders and audiences alike and are a platform for the enjoyment of live brass band music. Our President Sue Richards will be with us throughout the day.
A full schedule of entered bands and conductors will be supplied shortly. General tickets will be available on contest day (cash or card) and refreshment and trade stands available all day in the Arena.
Doors open at 9am with first schedule performance in 4th section at 9.30am.
It is with great sadness and disappointment that the Exmouth Festival of Brass scheduled for 3rd September 2022 has had to be cancelled.
The SWBBA Executive Committee took this painful decision as the event would not be viable or pragmatic to run with only the five bands that had entered.
A spokesperson for the Association added 'We are extremely disappointed that this very popular annual event will not run this year but understand that bands are re-building post-Covid. We hope that, by next year, bands will be in a much better position to return to contesting.'
With that thought in mind, SWBBA are still planning to host the Annual Championships at Torquay in November but need a minimum entry of 18-20 bands to make it viable. Therefore bands are encouraged to support this event if they can'.
Find out more about the Annual Championships »
All five bands entered for Exmouth Festival of Brass will be given the opportunity to receive a full refund of their entry fee on receipt of their BACS details to the event organiser, Robin Teague, at . May we take this opportunity to thank all bands for supporting the South West Brass Band Association by entering.
At the closing date for entries to the Exmouth Festival of Brass (8th July) we have just five bands entered.
Unfortunately, unless we can encourage more bands to support this highly enjoyable event, it will not be practical to go ahead with such a low number of entries (15 makes a good day of banding). We are very much aware of all the problems bands are facing post-covid and understand that not all bands are in a position to commit at this point in time.
After the Covid-enforced break of two years, we would very much like to bring this Festival back or it could be gone for ever.
In light of this, SWBBA are now extending the closing date to Friday 22nd July. If, by then, there are still not enough bands entered, we will regrettably be forced to cancel this event. In these circumstances bands who have already entered will be refunded entry fees.
Another important message - SWBBA would also encourage bands to consider entering our Annual Championships in The Riviera International Conference Centre, Torquay on Saturday 5th November. Sufficient entries will also be required to be able to stage this. Again, please see our website for more details and submit entries as soon as possible rather than leaving to the closing date in September.
Finally, if there are specific reasons that your band have not entered, please let us know as we are keen to understand and adapt if this would increase entries.
Thank you
After the enforced gap of two years, we are delighted to announce that the Annual Championships are back and entries are now open!
The Riviera International Conference Centre, Torquay will again host the event on Saturday 5th November 2022. Open to both SWBBA member bands and non-member bands (including ungraded bands, Youth and Training Bands), early entry is encouraged. Test pieces are own choice for all sections and we are also pleased to advise an increase in the number of borrowed players from two to four.
Please see Schedule for more details and we look forward to seeing you there!
It is with much regret that SWBBA announce the November SWBBA Annual Championships that would have taken place on Saturday 6th November 2021 at the Riviera International Conference Centre in Torquay are cancelled.
This would have been the 75th year of this contest. With so much uncertainty for the organising team, the venue and potential competing bands we feel this is the right thing to do.
Chairman Ray Kingdon commented "Although we are extremely disappointed to deliver this news, as a contest which prides itself on providing 5 contest sections including Youth and training bands, and attracting enthusiastic audiences to Torbay, we need to ensure this contest operates in a safe environment for all. With so much uncertainty we feel that it's in the best interests of all involved to exercise caution in this way."
We look forward to the 2022 Annual Championships and band secretaries are asked to reserve 5th November 2022 in diaries.
On a more positive note, an Autumn workshop for Tenor Horn/Flugel players with Yamaha Artist Sheona Wade as tutor is announced for 20th November 2021. We are finalising the location that we hope will be in Exeter with good links to M5 and rail networks. Application forms and further details available soon from . Applications from SWBBA member and non-member band players very welcome.
At our Committee Meeting this week we made the difficult decision to cancel the Exmouth Festival of Brass, due to have taken place at The Pavilion, Exmouth on Saturday 4th September 2021. As you would expect, this is due to uncertain Covid-19 restrictions at the venue and the time left for bands to get together for full rehearsals.
Thank you to all bands who have enquired, we are sorry to disappoint you. We are sad not to be hosting the event this year, but have pencilled in Saturday 3rd September 2022 and hope you will all be back to join us then for this popular event.
As yet, no decision has been made regarding staging our Annual Championships at The Riviera Centre, Torquay on Saturday 6th November 2021. Watch out for an announcement in due course.
SWBBA are delighted at the huge success of our first venture into the digital contest age. Many thanks go to Trevada Music for sponsoring the event, and also to Steve Sykes, Adjudicator. It was a mammoth task for him to decide the winners from 183 video uploads in 14 different classes, plus choosing the special prize recipients for Most Promising player under 12yrs, Best Solo performance, Most Promising Tuba player and Best Overall Tuba player. We do hope he has recovered! We were extremely appreciative that renowned Trombonist Stephen Sykes chose special awards for the Most Promising Trombone player under 18yrs and the Best Overall Trombone Player.
The results were announced in three separate Results Showcase videos on Facebook over three consecutive evenings on 21st, 22nd and 23rd May.
All three videos are available to watch again on YouTube by clicking the following links - we do hope you enjoy watching them:
Many congratulations to all the winners and well done to everyone who took part. Without such a great response from brass and percussion players, the event would not have been able to run.
For full results please see our Online Solo & Quartet Contest page under the Events tab.
Despite the Annual General Meeting for 2020 only being six months ago, we are returning to our usual Springtime for 2021.
This year will again see the AGM held online, on Monday 19th April at 7.30pm. Member bands have been emailed login details to join the meeting, and representatives of all bands are invited to attend. The Annual Report and Treasurer's Report will be sent separately. If your band has not been notified, please email the secretary at .
We look forward to seing you all then.
SWBBA are delighted to announce our inaugural Online Solo and Quartet Contest!
At this time of year, we are usually looking forward to our Winter Workshop at West Buckland which has sadly had to be cancelled, so this new venture is one which we hope will attract players from both member and non-member bands alike.
The event has been kindly sponsored by Trevada Music who have most generously donated prizes for the winners.
Renowned tuba soloist and conductor, Steve Sykes will be the adjudicator for all classes.
SWBBA Chairman Ray Kingdon said: "On behalf of SWBBA Executive Committee I am delighted to announce the launch our inaugural Online Solo and Quartet Contest. The challenging times over the last 11 months have severely restricted band activity with online the main gateway to keeping in touch. We have been exploring the possibilities of re- establishing a SWBBA Solo & Quartet competition, as 25-30 years ago these were extremely popular and provided experience and opportunity to so many at all levels and at variety of locations throughout our region. Whilst we are not the first organisation to promote an online event, we see this as a progressive step to rebuilding our local brass band community activities in 2021."
Of course, this is not the first contest of its type. However, for the South West region it is a new event that we see as a bridge into the times when the banding world can prepare for that long awaited return to playing together as a full band.
There will be under 18 and open classes in Solo, Air Varie, Duets and Quartets with the very optimistic inclusion of an ensemble class too!
See below for the key dates with a possible extension to that time frame for group classes if Lockdown has to be extended.
Key Dates
Entries to be received by 28th February 2021.
Videos to be uploaded by 11th April 2021.
Winning performances will be showcased during the weekend 8th/9th May 2021.
Full details available on the Events tab.
At the Annual General Meeting, discussions took place regarding the possibility of staging an Online Solo and Ensemble Contest. Assurance will be needed by member bands and individuals that it would be supported with sufficient entries before planning could continue.
Please register your interest by emailing be mid-November 2020. Thank you.
SWBBA's Annual General Meeting took place online on Sunday 18th October.
The Minutes from the meeting are now available to read here under the Committee tab. Attendance was the best for several years and thanks go to all bands represented.
We are very sad to say goodbye to two stalwart members of the Executive Committe, who both retired at the AGM. Keith Gibbs and John Croker have given many years service to SWBBA, Keith as former Treasurer and John as Minute Secretary. We thank them both for all their hard work and diligence over the years - they will be sorely missed. As a consequence, we have vacancies on the Executive Committee. There were no nominations for Committee members at the AGM, but we have to power to co-opt members mid-term. If you would like to be considered to join us, please drop us a line. You don't have to be a player, just someone with the committment to attend 5 meetings a year (currently online, so no travelling involved!), a knowledge of the brass band world, team spirit, and bags of enthusiasm.
The AGM will take place online via Zoom at 7pm on Sunday 18th October 2020. Please click on the following link to join:
Gill Rogers is inviting you to a scheduled Zoom meeting.
Topic: SWBBA AGM
Time: Oct 18, 2020 07:00 PM London
Join Zoom Meeting Meeting ID: 764 5718 4977
Passcode: 7B6rHH
We look forward to seeing you there.
Due to the pandemic, it is with the greatest regret that SWBBA announce the inevitable cancellation of their Annual Championships, scheduled for 7th November at the Riviera Centre, Torquay. All being well, the date for the 75th Annual Championships will be Saturday 6th November 2021.
More fallen victims of Covid-19 are the Horn & Flugel Workshop, which was to have been headed by Sheona White on 21st November in Okehampton, Devon, and the Mid-Winter Workshop scheduled for February 2021 at West Buckland School, tutored by members of Grimethorpe Band and Fairey Band.
A spokesperson for SWBBA said 'Having already lost our annual Festival of Brass in Exmouth in September, it was inevitable that, along with every other event in Brass Band calendars up and down the country for this year and beyond, all our planned events have now been postponed. It was the only safe decision we could have made, but we are now in the early stages of discussing the possibility of holding an online Solo Competition. Hopefully this may help to keep up interest and enthusiasm during these difficult times'.
Our last scheduled event was the AGM and General meeting, both regrettably postponed as the COVID-19 lockdown was introduced. Since then all normal band rehearsals and activities have been cancelled as we protect ourselves and our families & communities throughout the South West.
SWBBA Executive members have continued to keep in touch and remain available for any support and guidance to member bands on any matters of concern.
We recently held an Executive meeting remotely via Zoom and intend rescheduling the AGM for the autumn as soon as government guidance permits.
Member bands that had expressed interest in the Exmouth festival in early September have been made aware that plans to present this event have been ceased. We do, however, look forward to planning its return in 2021.
Our autumn/winter programme currently remains as scheduled, but does remain at risk and we intend revisiting the practicalities of these happening during July. However, the necessary rules for controlling the COVID-19 virus and ensuring the safety of players, audience members and organisers and volunteers makes organising the 74th Annual Championships virtually impossible.
Member bands will be kept informed. Meanwhile, we would ask all bands to ensure their 20/21 membership subscriptions have been paid. A number are now overdue-we recognise all band budgets are likely to be under pressure nevertheless membership fee enable us to present events and support and promote your band and its members. Any changes to band secretary's contact details should be advised to our General Secretary, Gill Rogers, via email -
A number of virtual initiatives have helped keep the spirit of our movement together which has been fantastic to see, however we the SWBBA are as keen as all our bands to get back to the new normal as soon as possible.
Wishing you all good health.
SWBBA Executive Committee
SWBBA, in line with current Government and Brass Bands England advice, have postponed the planned Annual General Meeting, which was scheduled for Sunday 29th March. We apologise for any inconvenience and will reschedule as soon as possible.
SWBBA have had numerous enquiries regarding the containment of the current Coronavirus Pandemic during the West of England Regional Championships this coming weekend, but it is The Council of West of England Brass Band Associations (WEBBA) who run the Championships, not SWBBA. However, for your information, WEBBA have issued a statement on their own website as follows:
WEBBA Statement #2 on Coronavirus (12th March 2020)
The Government's announcement earlier this afternoon gave no indication that our event should be cancelled. We urge all visitors to the Riviera Centre to follow good, sensible advice on basic hygiene and cleanliness, especially the regular and thorough washing of hands. We continue to focus on the final preparations for the weekend and look forward to seeing you in Torquay.
WEBBA Statement on Coronavirus (8th March 2020)
None of us will have escaped the regular news coverage over the past few weeks regarding the outbreak and spread of Coronavirus in certain parts of the world, and more recently and perhaps more critically for us, speculation over the likely further spread of the virus throughout the UK.
This is a situation for which, the safety of individuals, bands, supporters and our delivery partners must be taken very seriously indeed.
For WEBBA as an organisation our primary concern must be the safety of our players, guests and our audiences, and this will be the guiding principle by which we will seek to work through the current and developing situation. There are currently no indications that the event should be cancelled- however we will continue to regularly monitor the situation and guidance from government.
We will urge all visitors to Riviera Centre to follow good, sensible advice on basic hygiene and cleanliness, especially the regular and thorough washing of hands and use NHS 111 online for more specific guidance if appropriate.
Government and Public Health advice and best practice, including safety and key protocols relating to members and community welfare is applicable to all Associations and individual bands.
Meanwhile we continue to focus on the final preparations for the weekend and wish all bands every success in their final preparations and look forward to seeing you all in Torquay.
John Woods Chairman WEBBA, Sue Oldfield Secretary WEBBA
Please download the flyer linked below, take to your band room and share! It outlines details of the National Youth Brass Band of Great Britain 2020 Easter Course & Concerts.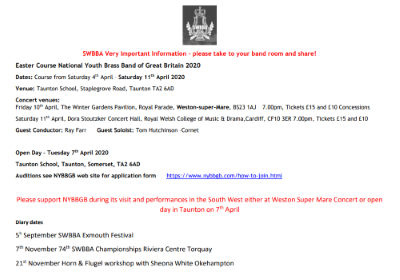 The 22nd South West Brass Band Association Mid-winter Brass workshop was held again this year at West Buckland School near Barnstaple North Devon on the 15th and 16th February.
The three tutors this year were Dr David Thornton, MD of Grimethorpe Colliery Band, tutor at RNCM, University of Huddersfield, Chetham's School of Music and Euphonium Virtuoso, Kyle Lawson Principal Cornet of Brighouse and Rastrick Band and Ryan Watkins formerly Principal Trombone of Brighouse and Rastrick Band.
This popular annual event attracted 100 participants the maximum that could be accommodated to maintain a manageable balance as well as affording as many as possible the opportunity to attend this workshop. There were participants representing 25 bands from various parts of the country, mainly from the South West area. Full band sessions were interspersed with break-out sessions.
The event proved to be a great success with many favourable comments being received. During the end of course concert Kyle Lawson played 'The Paragon' accompanied by the band to the delight of audience and band members alike.
During the end of course concert the 'Senior Award' nominated by the tutors went to Andrea Gosling of Sidmouth Town Band and the 'Most Improved Junior Player' on the course to Rachel Margetts of Bodmin Junior Band. These awards were presented by Sue Richards, President of the SWBBA.
Catering provided by Jenny Edwards and her helpers was once again first class and enjoyed.
The SWBBA Committee are indebted to music publishers who provided the music for the course namely Pennine Music, Studio Music, R Smith & Co, Kirklees Music.
We are happy to announce that we are now fully booked for our popular Mid-Winter Workshop taking place in February 2020 and are therefore not able to accept any more entries. We are sorry to disappoint anyone who intended to apply.
SWBBA held their 73rd Annual Championships at Rivera Centre Torquay - an ideal opportunity for bands to test out the stage acoustics and other facilities in advance of the 2020 Regionals. Highlights of the day were the Youth and training band sections that evidence the active educational work being carried out in parts of the South West.
Despite atrocious weather conditions, including bridge closures from Cornwall, Vice Chairman John Woods commended all bands for helping keep the day to schedule. Thanks were also extended by John on behalf of the Association to Sue Oldfield, Contest controller, for the festival and Keith Anderson who recently joined the team and undertook all planning with the Riviera Centre and competing bands.
Keith ensured rugby fans were kept up to date with 2 large TV screens installed in the Rosetor room so that events in Japan were not missed!
Feedback from bands on the section of set test pieces was very positive. Adjudicators Chris Binns and Derek Greenwood enjoyed:
4th Section: "Malvern Suite" by Philip Sparke
3rd Section: "Simon Called Peter" by Gilbert Vinter
2nd Section: "Celestial Prospect" by Wilfred Heaton
Open section: was own choice. The winners Camborne Town directed by Kevin McKenzie performed "Harmony Music" by Phillip Sparke
SWBBA have, for your delight, arranged for 2 TV sets to be broadcasting the Rugby World Cup Final in the Rosetor Room of the Riviera Centre from 9am on Saturday morning!
Not long to go now until the SWBBA 73rd Annual Championships in Torquay! We are all looking forward to another exciting contest with the following bands taking part:
Open Section: Forest of Dean Brass, S W Comms, Roche, Helston Town, Soundhouse, Camborne, Chalford.
2nd Section: Sidmouth Town, Porthleven, Shrewton.
3rd Section: Porthleven, St Stythians, South Molton
4th Section & Ungraded: Bideford Town, Saltash, St Breward, Okehampton, Soundhouse Brass Academy.
Youth Section: Bodmin Town.
Training Section: Hatherleigh & Northlew, Soundhouse Brass Training, South Molton Training.
The 20th Exmouth Brass Band Festival held on 7th September, promoted and organised by the South West Brass Band Association, resulted in a great day of brass banding. The 10 competing bands all gave spirited performances in the Exmouth Pavilion, vying for the "Exmouth Town Council Challenge Trophy" by presenting a 30-minute programme of own-choice music to Adjudicator Mr Steve Pritchard-Jones. Additionally, throughout the day, the same bands entertained the general public with half hour concerts in the adjacent Pavilion Gardens.
It was fantastic to see the enthusiasm and enjoyment in the faces of the young players of all the bands especially the Lanner Brass Academy, who were rewarded with an outstanding result. They were awarded 1st Prize in the Ungraded Section, Gardens Best Entertaining Band of the Day, and Contest Best Entertaining Band of the Day. View full results here »
It was a wonderful day of brass band music and the weather was again very kind to us, meaning all bands were able to take part in the Gardens concerts.
The day's events commenced at 10am and concluded with the results and presentation ceremony at around 4.00pm when the Chairman of SWBBA, Mr Ray Kingdon, and Exmouth Town Council Mayor Councilor Steve Gazzard presented the trophies to the winning bands and individuals.
Following the results and prize giving, the finale of a short Massed Band concert was performed by many of the day's competitors in the Pavilion Gardens, conducted by Steve Pritchard-Jones, our adjudicator for the day. This proved very popular with the bands and public alike!
The Association is greatly indebted to the Exmouth Town Council, LED Leisure and Trevada Music for their generous support of the Festival, and to Leisure East Devon and management and staff of The Pavilion for their logistical assistance in promoting the Festival.
Unfortunately, due to personal circumstances we have had to appoint two new adjudicators for the contest. We are delighted to welcome Derek Greenwood and Chris Binns, who will now be the two in the box.
Derek brings with him a wealth of experience and success from his long association with brass bands, mainly with all the top Cornish bands, but also further afield with Tredegar, Sun Life and Woodfalls.
Chris is currently the Solo Trombone player with Grimethorpe Colliery Band, but has associations with Black Dyke, the RNCM and various National orchestras including the BBC Philharmonic and the Halle.
We thank them both for stepping in and look forward to a great day!
Despite a bitterly disappointing 5% representation of member bands at the Crisis meeting, a solution was finally found to the appointment of a new General Secretary, therefore saving the Assocation from possibly folding.
Gill Rogers, a current Executive SWBBA Committee member, has stepped in and taken over from Simon James with immediate effect. Gill has been involved with brass bands for almost 50 years and is secretary, and a playing member, of Weston Brass.
Very sadly, Simon has also reluctantly decided to resign from the Execitive Committee due to heavy work committments. We are sure that you will all join us in thanking Simon for all his hard work over the past few years and wish him well in his continued playing with South Molton Band.
Ahead of the SWBBA AGM in March we are seeking volunteers who may be interested in joining the team. We urgently have positions to fill.
Our new mentoring scheme is designed to shape induction, share information and give confidence to aspiring SWBBA team members.
John Woods our vice Chairman has a wealth of experience from his Brass Band administration work not only in the South West but through other high profile national events such as Brass in Concert and European Brass Band Association where he is an Executive Committee member and Treasurer.
John is offering to support volunteers accepted onto this programme.
The purpose of "Mentoring for the Future Programme" is to give confidence and support in all aspects of planning an event or contest and access a toolbox of resource and techniques.
Are you interested? - do you know somebody who might be interested? No qualifications necessary just bags of enthusiasm and a passion for Brass and continuing the banding movement!
In addition to the mentoring Programme the Executive Committee would welcome visitors to their Quarterly meetings in order to further appreciate the inner workings of the Association and its aims.
Get in touch to learn more.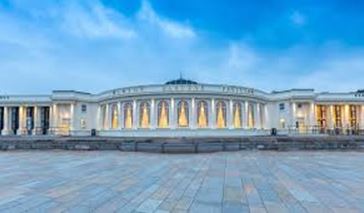 South West Brass Band Association announces that the popular "Own Choice" contest will not return in 2019. There remains hope however, that successful negotiations to bring back the contest in the recently renovated Winter Gardens on the sea front at Weston Super Mare North Somerset can resurrect the contest.
The Winter Gardens are now owned and managed by Weston College. The repair and renovation on this iconic building has been done to a very high standard, including the 350 seat ballroom, however there remains a lack of space to run an effective contest and provide bands with suitable "band room and preparation" areas that will work to our satisfaction.
An extensive review of options has been undertaken as we were always conscious of the appeal that Weston has as a resort destination for bands and their families.
We would ask all bands who have supported this event and any others who would like to support us to attend the SWBBA AGM on Sunday 24th March 2019. Band feedback is essential in planning the contest format and resource requirements. If enough bands step forward to express an interest in attending and making the event viable we will takes steps to plan and prepare.
Picture courtesy of Google Images
It's now the last chance to buy your tickets to Brass Bands England's first "Artistic Development Workshop" with Philip Harper on 29th September. Tickets must be bought in advance. Find out more here...
Has your band entered? The closing date is looming (6th July), and there are still a few places left at this popular entertainment contest. Schedule and entry forms can be found under the Events tab. Don't miss it!
JANUARY UPDATE: Entries have now closed for this increasingly popular workshop. The 'Cory Theme' tutor team (brainchild of Brian Elliott) proved so popular that we additionally recruited Helen Williams, Flugel Cory to join the team allowing us to increase the number of attendees.
Places are going quickly for this increasingly popular Association Workshop held at West Buckland School, North Devon. The tutors this year will be Philip Harper, Tom Hutchinson and Glyn Williams giving the workshop a distinct 'Cory Theme'. Unfortunately places will be limited so get your applications (available from this website under the Events, Training tab) in quickly to avoid disappointment.
The venue this year once again is the Riviera International Conference Centre, Torquay which has provided an excellent home for the finals for many years. As well as the facilities of the Riviera Centre itself, Torquay provides plenty of hotels and attractions to the the weekend and enjoyable one for all the family. Many of the competing bands stay for the weekend, practising beforehand and celebrating afterwards. The Riviera Centre is located close to the sea front and is well signposted. Alternatively the postcode is TQ2 5LZ.
Section Date and Times are now available although all timings are currently provisional.
Championship Section: Sunday 11 March, not before 1530 - Stage Forum - Test Piece: Odyssey (Kevin Norbury)
First Section: Saturday 10 March, not before 1430 - Stage Forum - Test Piece: Brass Metamorphosis (James Curnow)
Second Section: Saturday 10 March, 0930 - Stage Forum - Test Piece: Ex Terra Lucem (Jonathan Bates)
Third Section: Saturday 10 March 1000 - Stage Arena - Test Piece: Napoleon on the Alps (Philip Harper)
Fourth Section: Sunday 11 March 0900 - Stage Forum - Test Piece: World Tour (Dr. Rodney Newton)
For more information see www.webba.org.uk.